NOBO Shakes up the Cannabis Industry with Award-Winning Products
By Bryan Shelmon
April 10, 2023

8:06 am

Michigan GreenState Best of the Best WINNER: Best Brand, Best Pre-roll
If you're in the know, then NOBO is one of Michigan's shining stars in the world of cannabis. Nine-time winner of our Readers Best of the Best, NOBO reveals that the only secret to success in this budding industry is delivering a great product that customers want. From growing to consumption, NOBO has elevated the way Michiganders experience cannabis.
NOBO has a long list of awards to add to its accolades—including best brand (THC), flower, vape, pre-roll, and budget-friendly cannabis products. These product-focused recognitions are a testament to the attention to detail that NOBO puts into production from start to finish. We spoke with NOBO VP, Daniel Paul, to understand what goes into making cannabis products that people know and love.
"Consumers deserve to put great stuff in their bodies, so we set out to create that. We started with a grow operation in Benton Harbor, MI, in 2020 with the idea of delivering really great, consistent, high-quality products."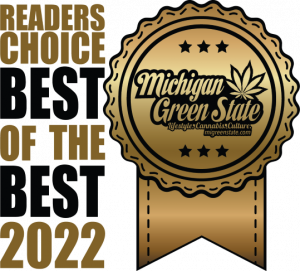 Creating an in-house ecosystem from growing to dispensing has established a high level of quality control to ensure that NOBO consumers get the best, regardless of whether they are enjoying a pre-roll, edibles, or concentrates. "We strive to meet industry standards and exceed them. We grow indoors because of our ability to control the elements better. It allows us to make products that we think the customers want. We get control over our strains and how we grow." Paul confirms that at the end of the day, the flower is the foundation of it all, and cultivating the best buds will lead to a great bi-product.
With as much science and research that goes into developing NOBO's extensive product line, it ironically simplifies the explanation for consumers. "We have a functional line. For example, you can find gummies for energy or sleep. We don't want you to have to be a scientist—you don't have to know cannabinoids and THC. We want to help you understand, and it's good even for people who are new to cannabis."
The moment you step into one of NOBO's dispensary locations—Benton Harbor, Muskegon, and Edwardsburg—you'll see why so many readers prefer it. "People attach themselves to the brand and the experience in the store." Whether it's your first time in a dispensary or you are a repeat customer, friendly budtenders provide friendly service while educating consumers on the different products available at NOBO. However, a great product always speaks for itself, and NOBO makes a loud statement every time.
"If you don't make a good product—something that resonates with consumers—they won't go out and vote. It's priced right and consistent. You can buy a pre-roll from us and you're going to have the experience you want."
NOBO continues to build a strong following since opening its first dispensary in Benton Harbor in February 2021. As a community-favorite dispensary, NOBO is always sure to do its part in building up the community through charity and service. Paul enthusiastically talks about the many charitable activities that NOBO is involved in.

"Giving back to the community is a part of NOBO. When you shop at NOBO, that money goes right back into the community where our customers live. We have a program called NOBO Cares. Customers can round up their transactions and we take the money to distribute to various causes like the Out Center, the Battered Women's Shelter, and Breast Cancer Awareness. Also, every holiday season, we do a personal products needs drive, donating items such as toothpaste, socks, toilet paper—items people need but may not be able to get themself."
Respecting and being responsible in the community is vital to continuing to support the growth of the cannabis industry in Michigan. Even with a laundry list of awards, Paul gives insight that it's only the beginning of what's in store for NOBO and the statewide cannabis industry. "It's continuing to be a maturing market with savvy consumers. We want to remove the stigma of buying and consuming cannabis." Providing a great experience at the dispensary and during consumption is essential to accomplishing these goals.
NOBO continues to evolve its product line with every new harvest season. From producing different strains to alternative ways of consuming cannabis, NOBO always has something new to try. And for those who already have a favorite, you can always expect the same consistency any time you drop by.

NOBO is the winner of the following categories: Best Brand (THC), Best Budget Friendly Cannabis Product, Best Cartridge (THC), Best Concentrate (THC), Best Hybrid Flower, Best Indica Flower, Best Pre-roll (THC), Best Vape (THC), and Best 710 Party.